Veiling Glare Index Test Set
The Veiling Glare Index measures the contrast reduction due to the dispersion of light entering an optical system. This phenomenon can arise from many sources, ranging from dirt on lenses, imperfections of optical materials, low quality anti-reflection coatings, or poor stray light rejection in the camera body. It may be a critical issue if the glare is obscuring the image of an automative back up camera, for example.
HGH's VGI-150 provides a practical tool and method of measuring and controlling the Veiling Glare Index in accordance with the ISO 9358 standard. As opposed to other testing tools available on the market, the VGI-150 is 8 times smaller: it can easily be deployed on an optical table or on a camera production line. Moreover, it creates repeatable measurements of Veiling Glare Index by presenting high contrast images thanks to its unique sphere in a sphere design.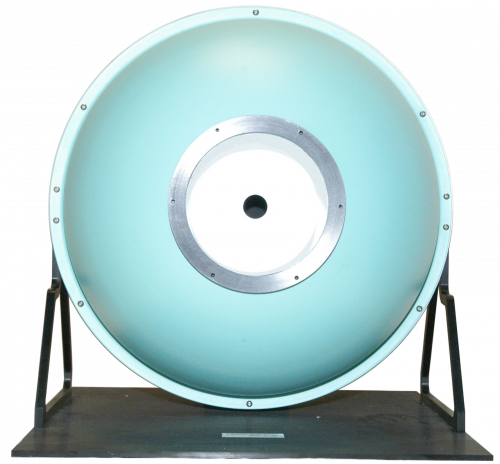 8 times smaller than existing systems
Equipment and software processes compatible with ISO 9358 standard
Footprint 8 times smaller than existing systems
Unique sphere in a sphere design providing high contrast image
Wide range and adjustable light outputs
Real time measurement of the contrast
Calibrated light output
X, Y and azimuth adjustment of the camera under test for incoming glancing angles
The VGI-150 provides a high contrast (>1000:1) controlled black target surrounded by white light entering the lens at glancing angles. The VGI-150 Test System is an innovative, unique design utilizing a sphere within a sphere to keep the overall size to less than 0.5 m diameter. There are two detectors, one to measure the dark target sphere and one for the white light level in the outer sphere (up to 70,000 cd/m2). X-Y and Azimuth stages are included for the camera system to be adjusted for incoming glancing angles.
Main Benefits of the VGI Veiling Glare Index test set
VGI-150 requires only 12.5% of the volume to perform Veiling Glare Index measurements per ISO 9358 compared to the large spheres described in the standard. The small footprint allows for easy deployment on a production line and lower overall cost. The new design has additional benefits of 180° orientation of the off-axis glancing light angles. The instrument has adjustable light levels and continuous monitoring of the black and white targets so the contrast level is a known ratio at the time the measurements are made.
The VGI-150 utilizes the same proven lamp power supplies and feedback detectors as HGH's highly stable (±0.2%) Integrating Sphere product line.
Related Products & Software