Remote supervision of multiple security sensors
Data management and geolocation of all threats and SPYNEL cameras
CYCLOPE HYPERVISOR is a security supervision software collecting and displaying, on a single workstation, all the threats automatically detected and tracked by multiple SPYNEL sensors, deployed on one or several critical sites.
Multiple SPYNEL sensors installed in one single site for perimeter security
Monitoring of several remote sites from one single control room
Multiple SPYNEL sensors for very long distance surveillance (coast, border, pipeline)
Double sensor solution for a full 360° monitoring in spite of obstacles (building, central mast/chimney of boats, oil rigs, FLNG/FPSO…) All CYCLOPE Server appliances data on one GUI (videos & alarms)

Easy monitoring of several remote sites

Real-time centralization of all intrusions detected by multiple Spynel thermal panoramic cameras
The location of all threats and sensors, pinpointed on one or more global vector maps, which can be automatically centred on a triggered SPYNEL sensor,
A table listing the last detected events, with their ID, location and timestamp,
The targets infrared thumbnails, location and time information
The tracks from different modules (AIS, ARPA Radar…), with filtering capabilities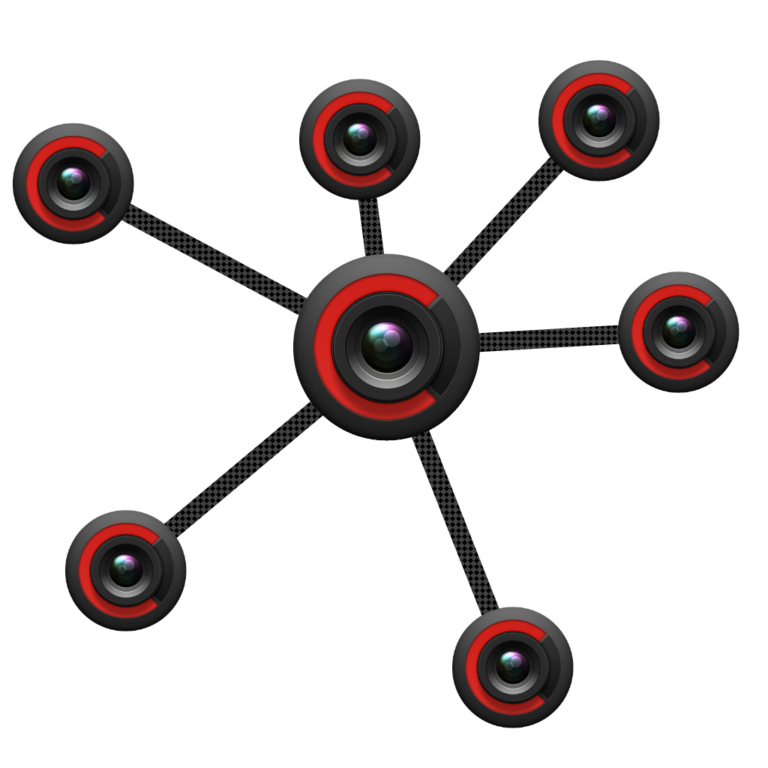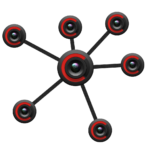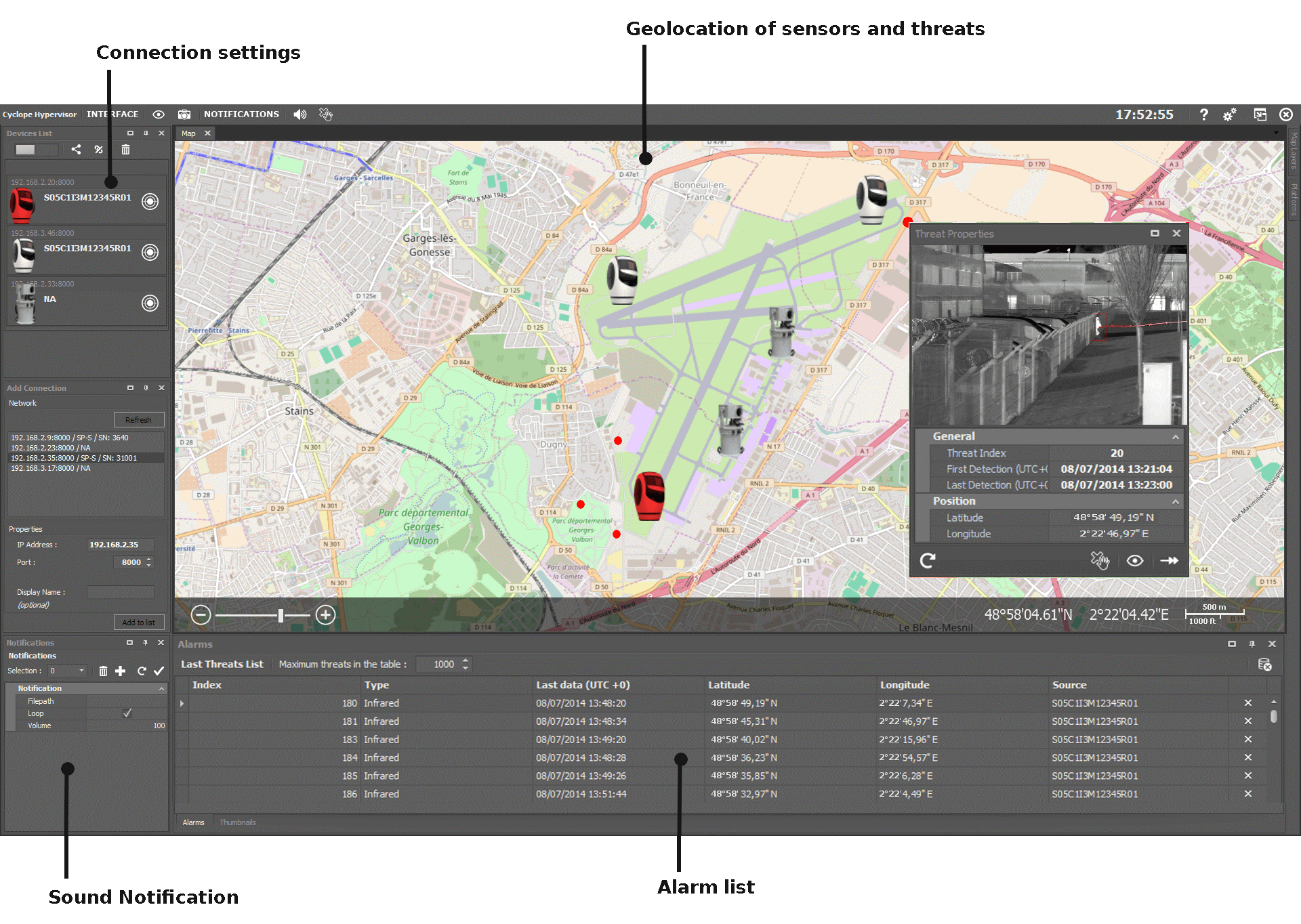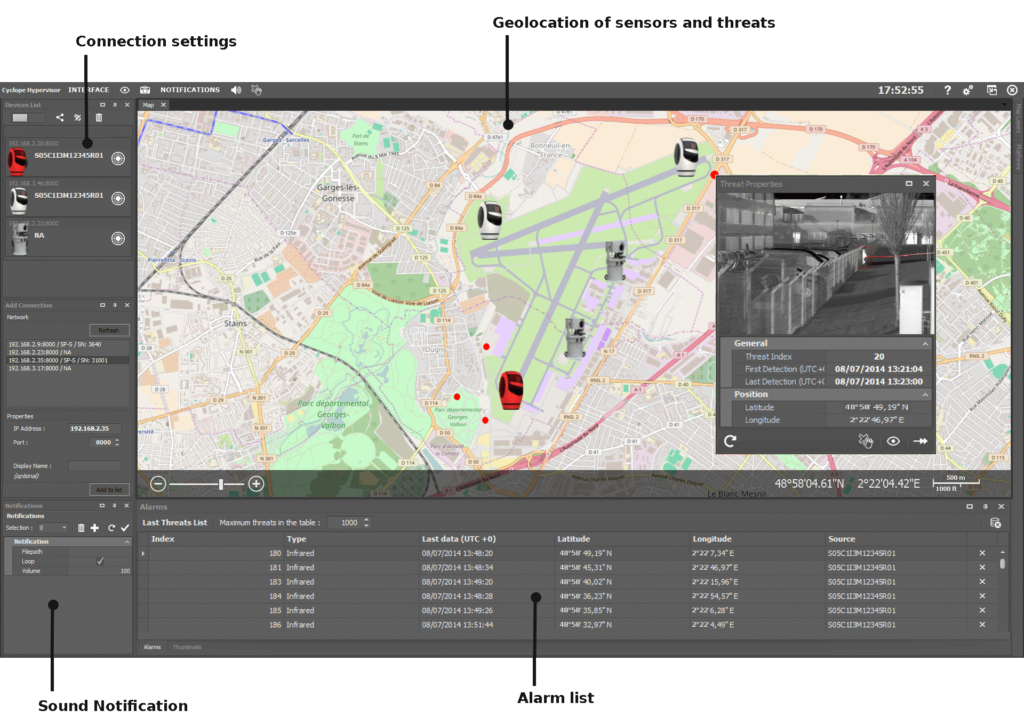 Main benefits of CYCLOPE Hypervisor:
Applications of the supervision software:
Multi-sensor / multi-site operation
Early warning of potential threats for faster counter reaction
Enhanced security supervision on one friendly software interface:

Easy configuration of user-defined sound alarms upon detection criteria,
Easy creation of customizable bookmarks to classify detected events at a glance
The main zoom window on a local CYCLOPE Server appliance can be slaved and auto-centred by a click on a track on HYPERVISOR GUI.
Moving objects or sensor platforms can be localized on a map, using NMEA-over-IP protocol.
Wide perimeter security: airports, seaports, nuclear plants, dams, power stations, solar/wind farms, refineries, oil rigs (FPSO, CPF, FLNG…), mines, prisons, embassies, logistic warehouses, parking lots
Wide area surveillance: pipeline, coastal and border passive surveillance
Air surveillance: counter UAV systems, short range air defense systems